Lori Tavoularis
Chief Revenue Officer/EVP, Revenue Operations, NEXSTAR DIGITAL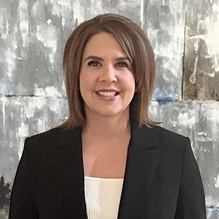 Lori Tavoularis was named Chief Revenue Officer/EVP, Revenue Operations in 2021, after joining Nexstar in June 2019 as SVP, Digital Revenue and Operations.
Ms. Tavoularis leads a diverse team of digital experts, driving monetization across the organization, overseeing all revenue-related functions for Nexstar Digital including national, local, and programmatic sales, digital marketing services and marketing.
Ms. Tavoularis has held multiple senior sales and revenue operations roles over the past 20 years, including Head of Supply for the Global Advertising Business at Rakuten, Inc., and as SVP, Digital Revenue and Operations, for Tribune Publishing.
She began her career in sales and client services roles in digital after receiving a Multimedia Bachelor of Arts from Columbia College, Chicago.  A proud member of Chief, the private network focused on connecting and supporting women leaders, Ms. Tavoularis has a passion for career mentoring. She serves as an advisor to several companies including Project Hercules, while also sitting on the board of the Local Media Consortium.