Tom Carter
President/Chief Operating Officer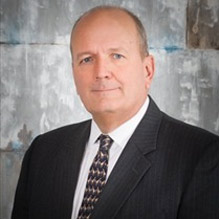 Thomas E. Carter was appointed President and Chief Operating Officer in September 2020. He joined Nexstar in the role of Executive Vice President and Chief Financial Officer in August of 2009.
Mr. Carter is responsible for coordination of divisional operations, long term strategy and various corporate and administrative functions.
Prior to joining Nexstar, Mr. Carter was Managing Director, Media Telecom Corporate Investment Banking at Banc of America Securities, which he joined in 1985. In this position, he acted as the senior banker responsible for delivering bank products and services including M&A, private and public equity, high-yield debt, fixed income derivatives, syndicated financial products and treasury management for selected clients across the broadcasting, cable, publishing and media industries, including Nexstar. Mr. Carter began his banking career in 1980, serving for five years in various roles in Corporate and International Banking at a predecessor to JPMorgan Chase.
Mr. Carter earned a Bachelor of Business Administration from Southern Methodist University in 1980 and is an active member of his community.