Since the company's founding in 1996, Nexstar Media Group, Inc. has established a company-wide commitment to delivering exceptional locally-produced programming and service to the communities in which it operates. Nexstar's award-winning journalism brings to light authentically local stories with a focus on issues and abuses in the local community. Our job is to be accurate and thorough to permit our viewers to be informed on issues of importance.
Below are just a few accolades our journalists have recently received.
Edward R. Murrow Awards
In May 2022, Nexstar Media Inc. earned a total of 31 regional Edward R. Murrow Awards from the Radio Television Digital News Association (RTDNA), including recognition for "Overall Excellence," "Best Newscast," "Digital," and "Excellence in Diversity, Equity and Inclusion." A total of 15 Nexstar television stations received regional Murrow Awards, with eight stations receiving multiple awards.
In addition, two television stations owned by Mission Broadcasting, Inc., for whom Nexstar produces the news, received a total of four Murrow awards, with KLRT-TV in Little Rock, AR winning three.
Three Nexstar stations, WXIN-TV in Indianapolis, IN, WRIC-TV in Richmond, VA, and KGET-TV in Bakersfield, CA, were recognized for "Overall Excellence."  Two stations, KGET-TV and KXAN-TV in Austin, TX, received five awards each.
Click here for a full list of Nexstar's 2022 Regional Murrow Award Winners.
National Academy of Television Arts & Sciences Emmy Awards
The National Academy of Television Arts & Sciences is dedicated to the advancement of the arts and sciences of television and the promotion of creative leadership for artistic, educational and technical achievements within the television industry.
In 2022, 47 of our television stations were honored with a total of 101 Regional Emmy awards.
Click here for a listing of Nexstar's 2021 Emmy winners and here for Nexstar's full list of winners from 2020.

PROMAX Local Awards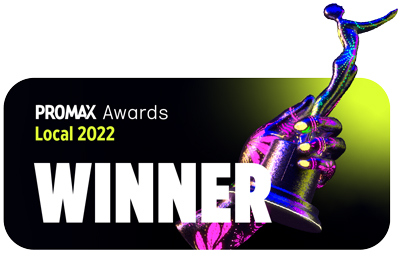 The PROMAX Local Awards are the industry's premier celebration of outstanding achievement in local broadcast marketing and promotion. They honor the dedicated professionals who build loyal viewership and create the local television brands that are vital civic partners in cities and towns from coast to coast.
In June 2022, nine Nexstar stations were recognized with a total of eight Gold awards and three silver awards. Nexstar produced the news for Mission Broadcasting's WPIX-TV in New York, which earned three gold awards.
Click here for a full list of Nexstar's 2022 PROMAX Local Award winners.

2020 Catalyst Award
Nexstar received the 2020 Catalyst Award at TVB's Alt Forward Conference 2020, the Television Bureau of Advertising's (TVB) annual leadership conference. The Catalyst Award, which recognizes a communications company that creates strategic programs to advance meaningful social change, was given for the company's outstanding support of Ad Council public service campaigns over the past year.
All Nexstar stations participated in Project Roadblock, an annual local broadcast TV campaign designed to reduce drunk driving fatalities over the course of the holiday season. Also, Nexstar stations led all participants in donated media value, with over $1 million dollars in value and 8,697 detections.
Latest Award Releases