HR Management; Workforce Diversity, Equity, and Inclusion
Our guiding principle is to foster work environments that provide personal pride through job satisfaction and a balanced life.
We strive to treat our employees fairly and ethically, encouraging every individual's contributions and personal growth. In addition, we seek to foster our employees' well-being through our efforts to create safe work environments, open communications, company sponsored employee assistance programs, financial support to employees in times of natural disaster (e.g., hurricanes and tornados), and encouragement to participate in health initiatives. Examples of our actions include the following:

Established a company-wide minimum wage above federal and state requirements in 2019 and periodically reviews its minimum wage with increases occurring in 2021 and 2022.
Created the Nexstar Employee Assistance Fund in 2021 to help employees facing financial hardship following a natural disaster or unforeseen personal difficulties.
Expanded our parental leave, personal time-off, and mental health benefits for employees, including expanding our medical benefits for employees to cover gender dysphoria.
Conducted a companywide employee survey to enhance employee engagement.
Broadly included management employees in equity awards. From 2019 – 2022, 63% of the equity awards were granted to management employees and non-employee directors other than our Named Executive Officers.

We seek to hire a diverse workforce that is representative of the communities we serve.

To help ensure accountability in making progress in our diversity goals, a portion of our managers' (defined as Vice President and above) bonuses are tied to diversity metrics in their markets. While we have not established specific quantitative diversity targets, each of the managers of our local markets are provided with demographic reports of the markets they serve for comparison to their employee base and are instructed to move towards aligning employee diversity with community diversity.
To help ensure a diverse pool of employee candidates, in accordance with FCC regulations, we widely publish job openings and conduct job fairs, scholarship and internship programs and other community events designed to inform the public about employment opportunities.
Nexstar works with a number of diversity-focused broadcasting professional organizations, including by typically participating in their conferences annually, in order to recruit new employees to the Company in furtherance of our goal of creating a more diverse workforce. These organizations and related conferences include the Asian American Journalists Association, the National Association of Black Journalists, the National Association of Hispanic Journalists and the NLGJA: The Association of LGBTQ Journalists. In addition, Nexstar works with specialty-focused broadcasting professional organizations to pursue new hire candidates, including the American Meteorological Society, Investigative Reporters & Editors, and the Radio Television Digital News Association.
Courtney Williams has acted as the Company's Chief Diversity Officer since May 2021 responsible for leading the Company's efforts to expand diversity in hiring, promotion and retention.
We value diversity and have made a commitment to creating a diverse, innovative and creative workforce to power our stations. We strive to foster a culture of diversity and inclusion, so all of our employees feel respected, and no one feels discriminated against. We believe a diverse workforce fosters innovation and cultivates an environment of unique perspectives. We have established several internal committees and groups and undertaken a number of initiatives focused on furthering these objectives:

Nexstar Diversity, Equity and Inclusion Council is a working committee dedicated to creating a path toward a more diverse and inclusive workplace, where diverse talent can flourish and build a career. The Council is comprised of ten members, including employees of varying levels – Director through President – from throughout the Company, with membership changing periodically.
Nexstar Voices are employee resource groups for the demographics of Latinx (Lideres de Nexstar), Women (Ladies of Nexstar), African American (African American Trailblazers), Veterans (Veterans Network) and LGBTQ+ (Pride Nation) designed to bring together employees who share similar cultures, backgrounds, and/or interests, as well as those employees who wish to provide support to that group. Access to these groups is provided via the Company's intranet and the groups typically meet monthly to share ideas, host guest speakers, and participate in events.
Nexstar Mentorship Program is a 12-month professional development program designed to assist underrepresented employees in overcoming challenges in the workplace with inclusion and career development skills. The program pairs seasoned leaders with less experienced employees to help them develop specific skill sets and knowledge and is designed to (i) create a more diverse mid-level and senior management team, (ii) grow the Company's leaders of tomorrow, and (iii) motivate our employees to remain with the Company.
The Company also offers anti-harassment, diversity and bias training beyond that required by law.
Employee Diversity
The table below reflects the demographics of the most recent census of 12,971 total employees, including 204 management employees (vice presidents and above) as of December 31, 2022, in comparison to national averages sourced from the 2020 United States Census Bureau population. As of December 31, 2022, approximately 41% and 28% of our employees and our management, respectively, were women; and approximately 26% and 12% of our employees and our management, respectively, were racially/ethnically diverse.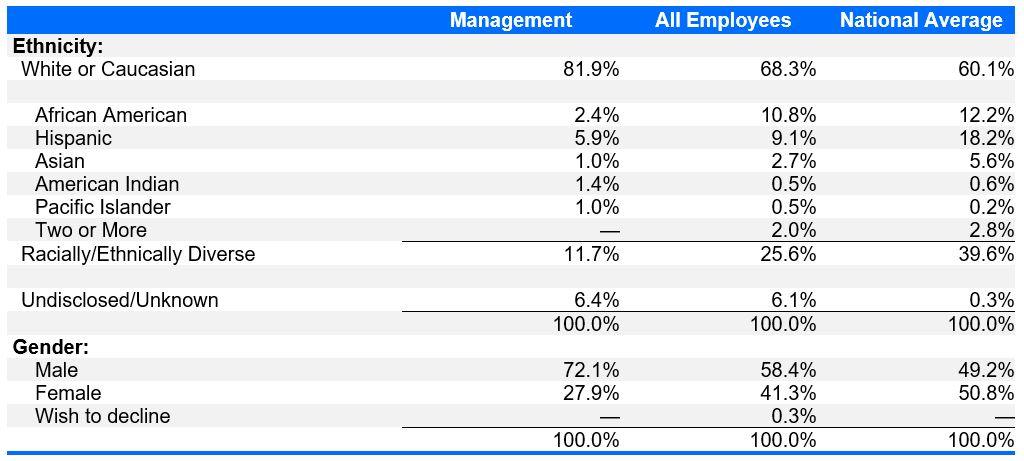 Click here to view Nexstar's 2021 EEO-1 report.