Brandin Stewart
Senior Vice President/Regional Manager, Broadcasting, NEXSTAR MEDIA INC.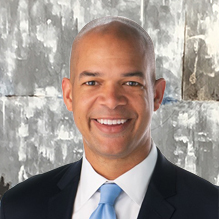 Brandin Stewart joined Nexstar Media Inc. as Senior Vice President and Regional Manager in July 2022. He oversees Nexstar television stations and digital operations in multiple markets across the country.
Mr. Stewart has a broad range of experience in all facets of the media business and a long track-record of success at television stations in large markets across the country, including Philadelphia, PA, Chicago, IL, San Diego, CA, and Dallas, TX.  Throughout his career in broadcasting, Mr. Stewart has consistently demonstrated the ability to grow ratings, revenue, and profitability, as well as developing innovative cross-platform solutions for advertisers and marketers.  He is known for creating strong, collaborative news, sales and marketing teams, and mentoring young broadcast executives.
Mr. Stewart served most recently as President and General Manager of CBS 3 (KYW-TV) and The CW Philly (WPSG-TV) in Philadelphia, PA (DMA #4), from 2019 through 2021, where he was responsible for the long-term strategy and day-to day operations of both media businesses.
Prior to leading CBS 3 and The CW Philly, Mr. Stewart held sales leadership positions at WMAQ-TV (NBC) and Telemundo in Chicago, IL (DMA #3), serving as Vice President of Sales for both businesses beginning in 2018, and Vice President of sales for WMAQ-TV from 2014 to 2018.  During his tenure at WMAQ-TV, Mr. Stewart and his advertising team were responsible for driving consistent year-over-year growth in advertising revenue and market share.
Before joining WMAQ-TV and Telemundo Chicago, Mr. Stewart held a series of sales positions of increasing responsibility in large markets, including Dallas, San Diego, and Atlanta.
Mr. Stewart has been deeply involved in the communities in which he has worked and lived, and he has served on the board of The Philadelphia Advertising Club, the Philadelphia Police Athletic League, and the Philadelphia Association of Broadcasters.  He was a member of the Board for the Better Business Bureau of Chicago during his time working in that city.  Mr. Stewart earned his Bachelor's degree in Business Administration/Marketing from the University of Kentucky in Lexington, KY.   He and his wife, Nicole, have been married for 12 years and have three children; they will be immediately relocating to the Dallas area.