Charles W. Pautsch
Vice President, Labor and Employment Relations/Associate Counsel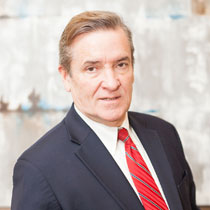 Charles W. Pautsch joined Nexstar Media Group, Inc. as Vice President of Labor and Employment Relations/ Associate Counsel in January 2019. He has practiced labor and employment law for over 41 years. Prior to joining the corporate staff, Mr. Pautsch served as an "in-house" counsel at a major health care corporation and a nationwide retail conglomerate, as well as a Partner in several prestigious nationwide law firms. Most recently he led his own law firm Pautsch, Spognardi & Baiocchi Legal Group LLP. In these past roles, he has represented Nexstar for over eight years as counsel and as a labor relations advisor.
In his labor relations role, he has negotiated collective bargaining agreements with all major US labor unions and in his capacity as a litigator, he has served as lead counsel in over 175 litigation matters in the Federal Courts alone, and thousands more before the NLRB, EEOC, DOL, OSHA and state courts/ agencies in 40 states.
He received his law degree, magna cum laude from the University of Illinois College of Law.