Chris Berg
Vice President of Local Content Development, NEXSTAR MEDIA INC.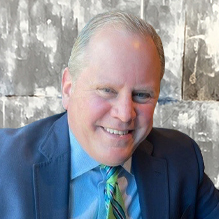 Chris Berg is an accomplished media professional with over 30 years of experience in news and station operations. He currently serves as the Vice President of Local Content Development at Nexstar, a position he assumed in January 2023. Since joining Nexstar in March 2014 as the Director of Content Development-West, Mr. Berg has played a pivotal role in managing news and operations for 20 Nexstar markets in the western half of the United States. In addition to his station responsibilities, he is actively involved in generating innovative ideas and developing processes for syndicating appointment viewing content within the group.
Beginning in September 2021, Mr. Berg's primary focus has been creating exclusive political and entertainment content for Nexstar. His contributions have been instrumental in securing and producing numerous debates, including high-profile events such as the 2022 Georgia (Warnock v. Walker) and 2022 Pennsylvania (Fetterman v. Oz) Senate debates, which played a crucial role in determining the balance of power.
Furthermore, Mr. Berg is known for his production of two syndicated New Year's Eve entertainment programs that are broadcasted in nearly 40 Nexstar markets, reaching millions of viewers. Notably, he became the first and only member of the Nexstar corporate staff to be honored with a National Murrow Award for his exceptional work in developing and producing a U.S./Mexican border tour series of reports.
Prior to joining Nexstar, Mr. Berg held various significant positions in local newsrooms, demonstrating his extensive expertise and profound impact in the field. As the Assistant News Director at WFAA-TV in Dallas, TX, he consistently led the market in breaking news coverage and produced a compelling full-length movie about the tragic explosion that claimed the lives of fifteen first responders in West, TX, in 2013. Additionally, Mr. Berg served as the News Director at KSTP-TV in Minneapolis, KOB-TV in Albuquerque, and an Assignment Manager at KMGH-TV in Denver.
Before assuming management roles, Mr. Berg gained valuable experience as a Reporter at KRDO-TV in Colorado Springs, CO, and KXII-TV in Sherman, TX. His commitment to delivering high-quality news and his passion for storytelling were evident throughout his career, contributing to his success and influence in the industry.