Chris Berg
Vice President of Local Content Development, NEXSTAR MEDIA INC.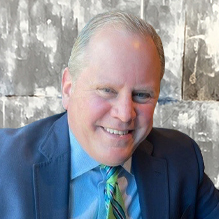 Chris Berg was appointed Vice President of Local Content Development in January 2023 and has more than 30 years of experience in news and station operations. He joined Nexstar in March of 2014 as Director of Content Development-West and has helped manage news and operations for nearly 20 Nexstar markets in the western half of the United States. In addition to his station duties, Mr. Berg generates ideas and develops the processes of syndicating appointment viewing content inside the group.
Beginning in September of 2021, Mr. Berg primarily focuses on generating exclusive political and entertainment content for Nexstar. Since joining Nexstar, he has secured and produced dozens of debates including many of the balance of power U.S. Senate debates like the 2022 Georgia (Warnock v. Walker) and 2022 Pennsylvania (Fetterman v. Oz) debates.
Mr. Berg also produces two separate syndicated New Year's Eve entertainment programs seen in nearly 40 Nexstar markets and available to millions of viewers. He is the first and only member of the Nexstar corporate staff to win a National Murrow Award for his development and producing of a U.S./Mexican border tour series of reports.
Prior to joining Nexstar, Mr. Berg had an extensive and impactful career managing local newsrooms. He was the Assistant News Director at WFAA-TV in Dallas, TX, where he consistently led the market in breaking news coverage and produced a full-length movie about an explosion that killed more than a dozen first responders in the small town of West, TX, in 2013. Mr. Berg was also the News Director in Minneapolis (KSTP-TV), Albuquerque (KOB-TV) and an Assignment Manager (KMGH-TV) in Denver.
Prior to the management roles, Mr. Berg was a Reporter in Colorado Springs, CO, (KRDO-TV) and Sherman, TX, (KXII-TV).