Dana Zimmer
President, Distribution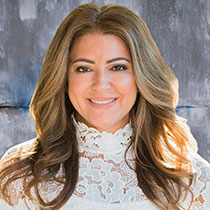 Dana Zimmer was promoted to President of Distribution for for Nexstar Media Group, Inc. in October 2021. Previously, she served as Executive Vice President, Chief Distribution and Strategy Officer.  She oversees all distribution for the company's billion-dollar-plus broadcast and television content portfolio to the cable, satellite, telco and digital media industries.  She spearheads network content deals with partners, Fox, CBS, NBC, ABC and CW.  Zimmer is responsible for distribution of 199 local television stations, representing approximately 39 percent of the television households in the United States (reflecting the FCC's UHF discount), and NewsNation. She leads strategy, execution and day-to-day management of Nexstar's relationships with all of its distribution partners.  Prior to joining Nexstar, Zimmer was President of Distribution and Marketing for Tribune Media Company, where she served a similar role of overseeing revenue for the multiplatform broadcast and cable powerhouse consisting of 42 broadcast stations and WGN America.
Zimmer was formerly the Executive Vice President of TV Networks Distribution for NBCUniversal.  She led the national sales team in the distribution of NBCUniversal's broadcast and television content to the cable, satellite and telco industries.  Zimmer oversaw key distribution deals for NBCU's multi-billion-dollar content portfolio of broadcast owned and operated stations and cable networks, including Bravo, CNBC, E!, G4, Golf Channel, NBC SportsNet, NECN, MSNBC, Oxygen, Style, Syfy, and USA, as well as the Olympics, Chiller, CLOO and Universal HD.  Additionally, Zimmer managed distribution efforts of Comcast Sports Networks' in the California Bay Area, Chicago, Houston, Mid-Atlantic, New England, Seattle-Northwest, Philadelphia, Southeast, Southwest, SportsNet New York and The Comcast Network.
Before Comcast acquired NBCUniversal, Zimmer served as Executive Vice President, Affiliate Sales and Marketing for Comcast Networks from 2005 through January 2011. She oversaw affiliate sales, marketing, business development and national account distribution for the entire content portfolio.
Prior to joining Comcast, Zimmer played an integral role on the launch teams that spearheaded successful distribution efforts of YES Network and SportsNet New York – the very first team-owned Regional Sports Networks lead by the Yankees and Mets, respectively, in the biggest sports market in the nation.  Dana also worked in affiliate sales for Fox Cable Networks and Discovery Communications.
Widely recognized in the cable industry as a top executive, Zimmer was named to the 2016 Cablefax 100 list and Top 100 Most Powerful Women in Cable by Cablefax each year since 2010.  In 2014, she was awarded Broadcasting & Cable's Next Wave of Leaders.  Women in Cable & Technology awarded her their top honor as a "Wonder Woman" in 2012 and in the same year, Cablefax named her into the Cable Sales Hall of Fame.  Zimmer was inducted in 2010 for the "40 under 40" awards by both Multichannel News and the Sports Business Journal.  She served on the Women in Cable & Technology National Board of Directors for ten years.
Zimmer holds a Master of Arts degree in the School of Communication from The American University and a Bachelor of Science dual degree from SI Newhouse School of Public Communication and Whitman School of Management from Syracuse University.   In 2016 she became a member of the Newhouse Advisory Board.  She resides in Philadelphia with her husband, Clay and their two children, Ava and Chase.