Mark Boyes
Senior Vice President & Assistant General Counsel, Content Distribution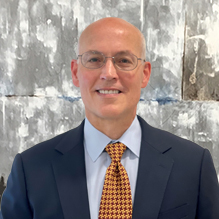 Mark Boyes joined Nexstar Media Group, Inc. as Assistant General Counsel in September 2019, as part of the Company's acquisition of Tribune Media Company. He now holds the position of Senior Vice President and Assistant General Counsel.
Prior to this, Mr. Boyes was an Assistant General Counsel at Tribune Media Company from 2015 to 2019 and Senior Vice President, Affiliate Business Affairs with Comcast and NBC from 2005 to 2015. Earlier in his career, Mr. Boyes worked as Senior Associate Counsel with Fox/Liberty Networks and Fox Sports Network, and as an associate attorney with Winstead Sechrest & Minnick.
Mr. Boyes holds a B.S. in commerce from the University of Virginia and a J.D. from Washington & Lee University. He and his wife Tricia have been married 30 years and have three children. They reside in the Philadelphia, PA area.