Michael Corn
President, News - NewsNation, NEXSTAR MEDIA INC.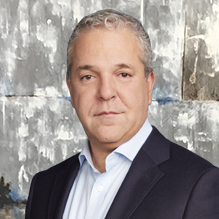 Michael Corn was appointed President of News for NewsNation, in May 2021. He is responsible for the long-term strategy and day-to-day operations of NewsNation's current news programming and any future content expansion.
Previously, Mr. Corn served as Senior Executive Producer of ABC News' "Good Morning America," the #1 most-watched morning news show in the country for the last nine consecutive seasons. While at "GMA," Mr. Corn was responsible for all editorial decisions, bookings, news coverage planning and breaking news, and oversaw a staff of more than 200 reporters, producers, writers and photo-journalists. Under his leadership, "GMA" earned five Emmy Awards, including the 2017 and 2018 awards for "Outstanding Morning Program."
Prior to "GMA," Mr. Corn served as the Executive Producer of ABC News' flagship evening news broadcasts, "World News with Diane Sawyer" and "World News Weekend" with David Muir. During his tenure, "World News" won some of the most prestigious awards in journalism, including the 2014 Edward R. Murrow Award for Overall Excellence in Television, and the 2013 Edward R. Murrow Award for "Best Newscast" for breaking news coverage of the Sandy Hook Elementary School shooting. In addition, for the first time in seven years the broadcast finished first among adults 25-54 in consecutive ratings periods, making Ms. Sawyer the first female anchor to win for an evening news broadcast.
Prior to his role as Executive Producer of "World News," Mr. Corn served in a series of positions of increasing responsibility at ABC News; he joined the network as an investigative producer for "Good Morning America" in 2002. He graduated from the University of Michigan with a degree in English.