Susan Tully
Senior Vice President of Local Content Development, NEXSTAR MEDIA INC.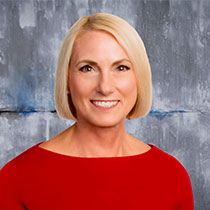 Susan Tully was named Senior Vice President of Local Content Development in August of 2019. Ms. Tully oversees the corporate content development team and is responsible for managing the development and execution of the Company's strategic local content and viewer engagement initiatives across its broadcast operations.
Prior to Nexstar, Ms. Tully was with the NBC Owned Television Stations for 28 years. She was President & General Manager of WVIT-TV (NBC) and WRDM-TV (Telemundo) in Hartford, CT. During her time in Hartford, the Investigative Team was honored to receive the prestigious duPont-Columbia Award for "Crumbling Foundations." Prior to that, she served as VP & News Director at KXAS-TV in Dallas, TX where she led the team in an intense weather and breaking news market. She played a critical role in construction of the stations new broadcast facility, built a national award-winning Investigative Team, and developed innovative content strategies around hyper-local journalism to cover one of the nation's largest geographic DMAs. Earlier in her career at NBC, she was the Assistant News Director at WCAU-TV in Philadelphia and Managing Editor of KNSD-TV in San Diego. Prior to NBC, she worked in newsrooms in Austin, Corpus Christi, and Victoria, TX.
Ms. Tully is a graduate of Sam Houston State University. She and her husband, Kevin, have one son, Conor.