Theresa Underwood
Senior Vice President/Regional Manager, Broadcasting, NEXSTAR MEDIA INC.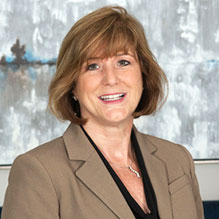 Theresa Underwood was appointed the company's Senior Vice President and Regional Manager on April 1, 2015.
From 2000 to 2015 Ms. Underwood served as Vice President & General Manager of WSYR-TV. Ms. Underwood served in sales and various management positions at WSYR, having been with the station since 1992. Ms. Underwood also worked in the agency side of the business, developing and implementing marketing plans for multiple clients.
She currently serves on the Board of the New York State Broadcasters Association, serves as Chair for the Communications Committee of the Salvation Army Advisory Board and serves on the Advisory Board for the Golisano Children's Hospital. She is past Chairman of the Board for the New York State Broadcasters Association and worked in support of Syracuse Chamber of Commerce, Children's Miracle Network, Make- A- Wish Foundation, Muscular Dystrophy Association and the Red Cross. Ms. Underwood was the recipient of the "40 under "40 award presented by Leadership Greater Syracuse and honored at the sixth annual Women in Business Award in 2006.