Traci Wilkinson
Senior Vice President/Regional Manager, Broadcasting, NEXSTAR MEDIA INC.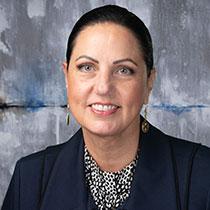 Traci Wilkinson was promoted to Senior Vice President and Regional Manager in July of 2019. Prior to her appointment, Ms. Wilkinson served as Vice President and General Manager of Nexstar's local television operation KASW-TV (CW) and yourphx.com in Phoenix Arizona from 2016 to 2019 and brings over 27 years of broadcasting and sales management experience to the role. Throughout her career, she consistently delivers excellence in client service and sales performance, achieving consistent revenue growth by increasing local community involvement, establishing strong local brands and elevating the level of service provided to viewers and advertisers.
Earlier in her career, Ms. Wilkinson served in several senior management roles including Director of Sales for Belo's Phoenix based television operation KTVK-TV (IND), KASW-TV (CW) and azfamily.com, and Local Sales Manager at Fox O&O KSAZ in Phoenix from 2009-2016. Prior to that, she was General Sales Manager of Entercom radio station 103.7 FM serving the Seattle, WA market (DMA #13) from 2004 to 2009, Director of Local Sales at regional Northwest Cable News (NWCN), and Local Sales Manager at KONG-TV (IND), Belo's Seattle-based television operation from 1998 to 2004.
Traci grew up in the Seattle area and began her television career in sales at Comcast. Ms. Wilkinson has been active in several volunteer organizations including equine therapy organization Horses Help, The Humane Society, and serves on the board of the Walter Cronkite School of Journalism.