Antenna TV to Air "One-of-a-Kind, One Day at a Time Mother's Day Marathon"
All-day Antenna TV marathon of "One Day at a Time" on Sunday, May 14 starting at 5am Eastern
April 26, 2023 – Moms, like one of TV's greatest moms, it's hard to describe you in one word other than "one-of-a-kind." Celebrate Mother's Day with Antenna TV's "One-of-a-Kind, One Day at a Time Mother's Day Marathon" featuring back-to-back episodes of One Day at a Time on Sunday, May 14 starting at 5am Eastern.
One Day at a Time originally aired from 1975 through 1984. The sitcom centered around a divorced mom raising two teen daughters and starred Bonnie Franklin, Mackenzie Phillips, and Valerie Bertinelli.
Visit www.antennatv.tv for the channel finder.
And stay tuned for these upcoming Antenna TV marathons:
"Father's Day Marathon" | Sunday, June 18
###
Antenna TV (http://www.antennatv.tv/) Nexstar Media Group's multicast network, launched on January 1, 2011. It airs in 154 TV markets across the U.S. reaching 93% of TV households including WPIX-TV (11.2) New York, KTLA-TV (5.2) Los Angeles, and WGN-TV (9.2) Chicago. On January 1, 2016, Antenna TV became the new home of "Johnny Carson." For local station information, please visit: http://antennatv.tv/channel-finder/
Media contact:
Beth Feldman | bfeldman@nexstar.tv | 917.797.8054
Sara Tieman | stieman@nexstar.tv | 312.222.5098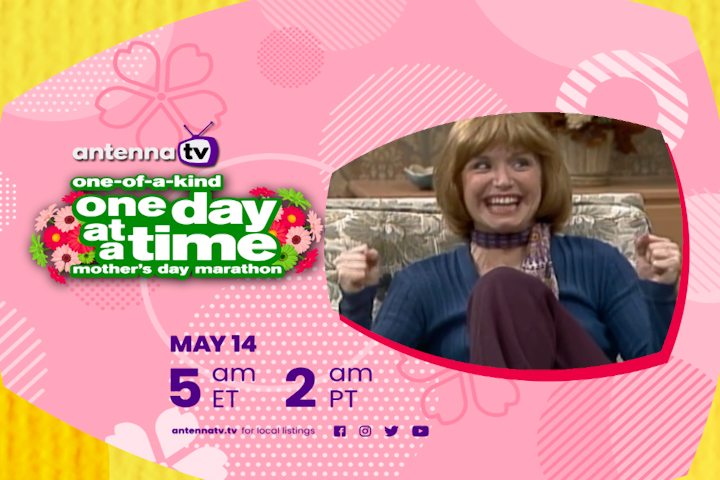 Image: Antenna TV's "One-of-a-Kind, One Day at a Time Mother's Day Marathon"
Click here for the PDF version of the release and here for Episode Guide.